[Booklet on Teachers' International Exchange Vol.3 has published]
"TREE of International Exchange -Weaving the Future Through Dialogue-"
2023.03.24
International Exchanges for Teachers
Exchange with the Republic of Korea
Exchange with the People's Republic of China
Exchange with Thailand
Exchange with India
International Educational Exchange Department, ACCU has published the third edition of booklet on teachers' international exchange, "TREE of International Exchange – Weaving the Future through Dialogue", to share the initiatives and further development of the teachers who have joined the programmes in the past.
 
In this issue, we have valued the perspectives and questions of the teachers and presented the dialogues between Japanese and Korean teachers and Japanese and Indian teachers, as well as contribution from Japanese teacher who is enthusiastic about UNESCO activities in his school.
 
An English version has also been published to make it accessible to teachers abroad.
 
Click here to read the digital book version.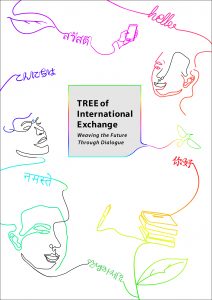 PDF version is here.
 
*We will be able to send the booklet to you if you bear the postal/shipping cost.
Please contact the following contact information.
 
[Contact information]
International Educational Exchange Department,
Asia-Pacific Cultural Centre for UNESCO (ACCU)
exchange☆accu.or.jp(Please change ☆ to @ and email to us.)