Publication of the Report on 2022-2023 International Exchange Programme for Primary and Secondary School Teachers
2023.03.30
International Exchanges for Teachers
Exchange with the Republic of Korea
Exchange with the People's Republic of China
Exchange with Thailand
Exchange with India
The Asia-Pacific Cultural Centre for UNESCO (ACCU) conducted 'International Exchange Programme for Primary and Secondary School Teachers' as part of 2022-2023 International Coordination Programme for Education in a New Age, entrusted by the Ministry of Education, Culture, Sports, Science and Technology of Japan (MEXT).
 
This report shares the programme activities and details of the bilateral teacher exchange programmes in 2022–2023 between Japan and Korea, China, Thailand, and India respectively.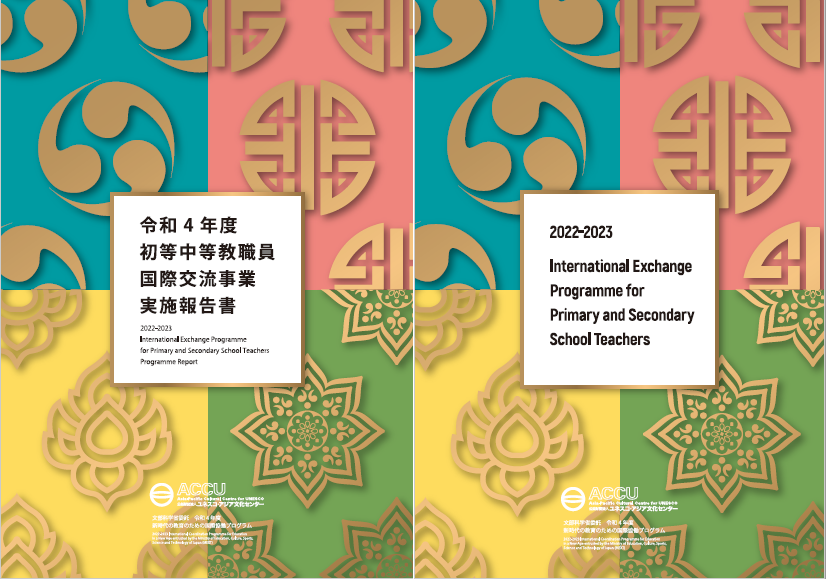 [Table of Contents]
Introduction
Diversity of participants in 2022-2023 (region and school type)
Programme Overview and Achievement (Number of participants over approximately 20 years)
Chapter 1
Japan–Korea Exchange
Chapter 2
Japan–China Exchange
Chapter 3
Japan–Thailand Exchange
Chapter 4
Japan–India Exchange
 
Appendix
 
32 pages, Japanese and English Editions are available.
 
〔Contact〕
International Educational Exchange Department,
Asia-Pacific Cultural Centre for UNESCO
exchange☆accu.or.jp(replace ☆ into @ before send)